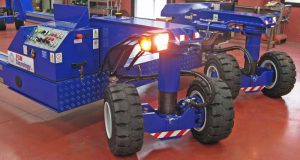 FGM. Tecnology trailers are the best solution for dockyard and seacoast as they ensure the best use of outer and inner yards. Optimization is made possible thanks to their particular structure with rear opening, which allows the trailer to be positioned under the ship. Once the ship has been fastened to the trailer, it can be lifted and easily moved by means of the lifting equipment. The operation is simple and quick, because of the trailer's small size and its easy handling.
FGM. Tecnology trailers are manufactured according to the Machine Guideline 2006/42/CE and come with a main driving system with remote-control, allowing an individual operator to move the truck in all safety, without the need of any further staff.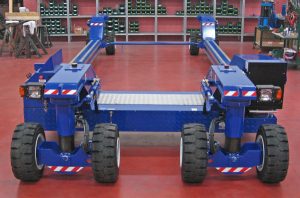 The driving system is equipped with an appliance allowing progressive acceleration and deceleration, preventing the towed boat from dangerous swinging. All other operations are equally intuitive while the operator is free to move and can thus keep everything under control.
The secondary driving system is located on the control panel and is equipped with the same features of the main driving system: independent right and left front lifting gear, independent right and left back lifting gear, independent front and back steering also allowing cross movements. Both driving systems are equipped with complete safety device.
FGM.Tecnology trailers are equipped with hydraulic self-equalization, parking brake and they can be further accessories through our catalogue.
In all of our trailers, the engine is positioned lower to decrease the height of the machine and to facilitate positioning the boat; the engine is equipped with a soundproof cover, to minimize noise and to avoid any infiltration of water.
All our trailers are available in these versions
| | |
| --- | --- |
| | 90° steering. This type of steering enables the lateral movement and reduces the boats positioning maneuvers in the storage areas. |
| | Extendable. The hydraulic widening from 500 to 1000 mm, allows to best adapt the width of the trailer to those from the loaded boat. |
| | Extensible. The elongation from 1000 to 4000 mm, allows to stretch the trailer to accommodate different lengths of the loaded boats. |
| | Trailer for road use. The version for road use, in addition to the driving system with radio control units for on-site handling, is equipped with steering console with all the safety systems for the driver and is designed and built in the full respect of the rules, and subsequently approved by the responsible authority for road traffic as a working machine. It is equipped with double speed, a specific setting for over 3% slope and hydraulic oil cooling system. Even the street version can be equipped with all the options described above. |
| | Standard Trailer. The standard version is still complete with all accessories, with the exception of only optional. |